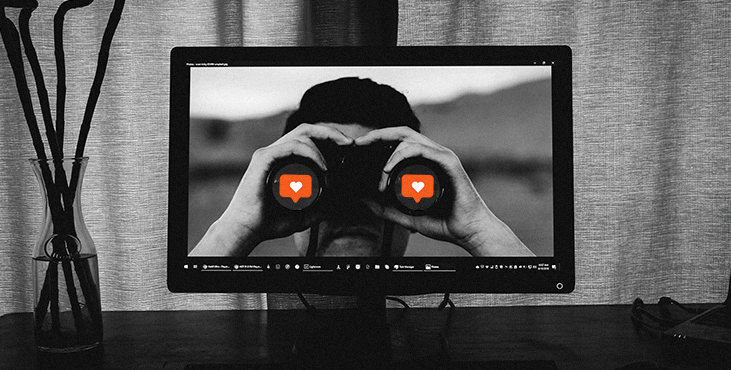 Instagram without likes, video views and followers
The discussion about the removal of the subscriber activity tracking started four years ago in 2019. Since that time, the tab has been removed from many users. With the removal of public likes, the situation is quite different. This news was announced last year and a trial version has been launched in seven countries: Canada, Australia, Brazil, Italy, Ireland, New Zealand and Japan. Now Instagram hides information about the number of public likes and video views on user posts. But all these statistics are available in the personal account.
What was the reason for those changes in Instagram?
Removal of the Followers tab
The "Subscribers" tab was provided by the developers for finding interesting content. The idea was simple: you subscribe to people you like, which means that you can be attracted to what they like. But such a function has turned into something bad. Many users used this feature to spy on partners and didn't feel free on Instagram.
For these reasons, Instagram has decided to ditch the tab.
Public likes and video views counting removal
The Head of Instagram, Adam Mosseri, noted that they no longer want "like" competitions. It's much more important that users focus on what they're sharing rather than how many likes their posts get.
Public likes removal contributes to:
1. Shifting focus from approving content to evaluating its quality. Like has become perceived as a measure of the quality of content. But this is not an objective indicator. They distract the user from self-assessment of the content.
2. The fight against fake likes. Fake likes to mislead both users and advertisers. Hiding them will eliminate the need for cheating, which will make the feed rank higher for posts with a fair number of likes.
Impact of change in business
In this article, we consider Instagram primarily as a platform for business promotion. Changes will require the improvement of tools to influence the audience. Of course, most popular business accounts will be upset by the lack of public display of likes. For many, it served as a subject of self-realization, gave the blog a certain status and was a way of demonstrating to subscribers the involvement of the audience.
Small business
Business accounts that are in the initial stage of promotion and accounts with a small reach may regard like-free tendency as a positive change.
It is difficult to promote an Instagram account at the initial stage. This is due to a possible lack of experience and to the psychological aspect of users as well. Likes serve as a kind of approval. Often we refer to someone else's opinion, assessments, adhering to the thought "Many people liked it, so it's worth taking the time."
The absence of likes will allow "small" accounts to publish posts on the same conditions as already promoted pages. A user who sees a "newbie" post and a Nike post in their feed can approach both with equal agility. Of course, we are talking only about a well-designed post with the right message.
Post parity is a big advantage for modest accounts. Therefore, you don't have to worry about removing the public likes in this case. Thanks to high-quality content, it will become easier to promote your account.
Medium business
The impact on medium reach business accounts will depend on the content. In the eyes of the user, the changes will make all posts equal and likes will no longer stimulate uninteresting content.
If the user manages to fill the account with high quality content, then we can assume that it has passed the like-free test, if not, then it will experience a decline in audience engagement and an influx of new users. Insta people will choose by the "cover", no matter how wonderful your product is.
Of course, there is a way to show your followers the number of likes under posts. If you wish, you can publish screenshots of the most popular ads. But we do not recommend using this technique often. Difficulty in the mid-range business can be caused by influencer marketing. without likes, it is difficult to determine the involvement of the blogger's audience. But this problem can also be dealt with. We'll show you how.
Big business
By big business, we mean well-known global brands. As a rule, they maintain pages on social networks in order to form a positive image of the company, aiming for real audience engagement, and not for the number of likes.
In a large business, a huge team of professionals is responsible for SMM, which simply cannot afford to post poor quality posts. Therefore, the lack of likes is not a problem for them.
Even the search for bloggers will not cause major difficulties for large accounts. Brands are accustomed to working with well-known media personalities in their field, whose audience involvement is undeniable and visible.You can read more about brands in social networks in our article.
General trend in social influence
Moving away from the influence of likes on the minds of the audience will help strengthen other criteria for evaluating pages.
Comments
Likes removal can provoke the activity of comments. If you put the right message in the ad or the post, then with their help you can increase the engagement of the audience. People can come not only for the sake of pictures and buzzwords, but also for communication, expressing their position.
Subscribers
Remember that information about the number of subscribers remains visible. This, of course, is not an indicator of engagement. But one of the ways of psychological impact on the next guest of the page.
Advertising
Advertising on Instagram remains one of the most effective methods of attracting users' attention.
Influence marketing
These innovations affected influencers the most. Likes were one of the important criteria for assessing the engagement of the blogger's audience. They helped the brands and advertisers to form an initial idea about the influencer before making a collaboration.
In the new conditions, when choosing an "influential person", it is necessary:
- analyze content quality,
- evaluate the activity in the comments,
- request statistics on the number of views, likes, saves, clicks, etc.
In general, public likes and the "Following" tab removal can be regarded as another challenge for business, marketers, and influencers. Remember how Instagram stories have gained their popularity without any indicators of publicity.
Get an audit of your social media account as a bonus
Sign-up to receive the latest
offers and news