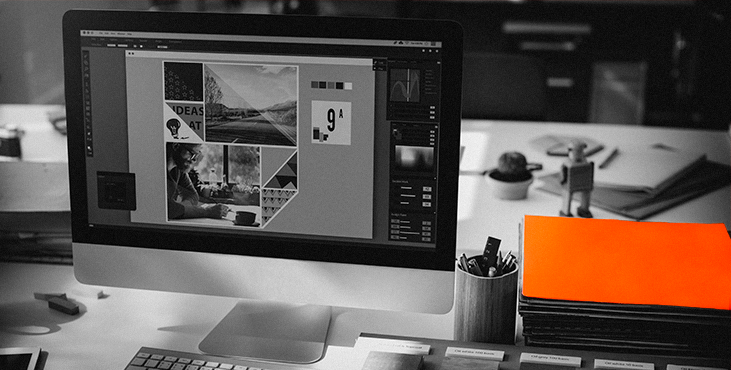 Top 5 trends in web design
If you compare sites developed 10 years ago and modern Internet resources, you will find very few similarities. And it's not only the active development of technology, but also changing requirements of users.
Consider the most relevant trends in web design, firmly holding positions over the past few years.
"Hooray!" for adaptive web design.
If your site is designed only for viewing on computers, then get ready to lose a significant part of the audience. Tablets, smartphones and other devices are increasingly being used to go online and get the information they need. Users should be able to take a targeted action from a mobile device. Ease of browsing, adaptability of design - all this characterizes a modern web resource.
Lightweight and productive.
Users do not like to wait. Instant information, instant action - that's what attracts people in the Internet space. To satisfy this desire is to reduce the weight of the pages of the site, making it load faster. Performance factor is increasingly important, making it even more comfortable for visitors to perform actions.
Graphic User Interface.
Structured website layouts, thanks to the adaptive design are becoming more and more popular. As noted by experts, the availability of multiple frameworks eliminates the need to develop a "bicycle". Modular design blocks used in the construction of the site, making the creation process less expensive and more responsive. Accelerating at this stage of development, makes it possible to emphasize the detailing of web design components.
Web site design with new tools.
Design methods will definitely be improved. An obvious trend is the ability to design in the browser. Optimization of CMS interfaces will open up more opportunities for content managers to edit site content from any device.
Experimentation is fun.
Support for CSS grids, the use of new technologies and adaptive site design - all this lead to the fact that the process of creating a site becomes more original and creative. The practice of launching an unfinished resource will be used everywhere. The redesign of the site, bringing to mind will happen gradually, in the course of time, as users begin to come to the site.
Given that the algorithms of search engines are changing towards more "human" like, i.e, SEO of the site and ranking algorithms prioritize comfortable sites that have an intuitive interface. It is logical to assume that the development will focus on ease of use. Excessive abundance of all kinds of distracting objects will be a thing of the past. The era of minimalism is coming: subtle, convenient and tasteful. However, there will be new features, because monotony gets boring rather quickly.
Sign-up to receive the latest
offers and news